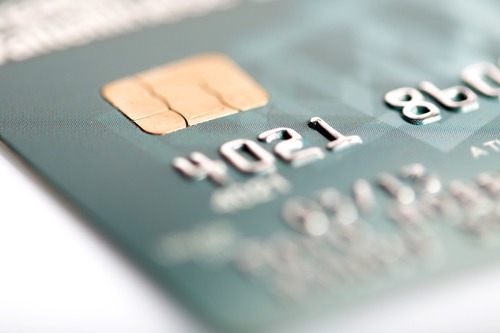 Credit and debit card fraud cost businesses $11.27 billion worldwide in 2012, up nearly 15 percent year-over-year, according to The Nilson Report. Almost half of this fraud occurred in the United States despite American companies accounting for only 23.5 percent of global sales via credit and debit cards.
President Barack Obama responded by issuing an Executive Order on October 17, 2014. It mandated all federal government payment cards — including Social Security, veteran benefits and payroll for federal employees — be equipped with EMV integrated circuits. Visa, MasterCard, American Express and Discover have followed the White House's lead with policy changes of their own.
The Payment Networks' Liability Shift takes effect on October 1, 2015. Liability for fraudulent credit and debit card transactions shifts from the bank to the merchant if said merchant is not equipped to accept EMV (which stands for Europay, MasterCard, Visa) cards. In other words, businesses that fail to adopt technology that brings them into compliance by that date stand to lose profits due to fraud.
Market research firm Javelin Strategy and Research estimates the cost to implement EMV-compliance in the U.S. will exceed $8.6 billion, with businesses footing most of the bill. But compliance will ultimately cut fraud losses substantially and pay for itself in less than two years. Individual small and medium-sized businesses can become EMV-compliant with minimal cost and hassle in the following ways:
Get the Proper Equipment
The first and most important step for U.S. businesses to protect themselves is to invest in an EMV card reader. Jeremy Gumbley, CTO of Creditcall, told NerdWallet that most small mom-and-pop businesses will be provided EMV-compliant terminals by their banks. Larger companies will need to assess their situations to determine the proper course.
One option is Sage Payment Solutions. It offers a comprehensive, EMV-compliant POS system that reads chipped cards and also integrates with most enterprise resource planning (ERP) software. Another option is to determine whether the current system can simply be updated with the proper hardware and software to handle the technology.
Some companies may choose to not update their systems. There is no government mandate on private companies to adopt the technology. The choice basically comes down to whether or not the cost to update exceeds a company's potential losses due to fraud and if that company can handle those losses and remain a viable business.
Train Staff and Communicate With Customers
EMV cards do not function in the same way as magnetic strips. Instead of swiping the cards, customers must now insert them into readers throughout the entire transaction. Cashiers and clerks must be able to instruct customers who are new to the process. Patrons still using magnetic strip cards without a PIN number should also be asked for identification to lessen the chance of fraud. As a result, a company-wide briefing about the October 1 changes and how it applies to everyone's specific job will help make the transition smoother.
Move Into the Future
Magnetic strip credit cards will continue to work as normal for the foreseeable future. The mandates by the major credit card companies are in place simply to hasten the eventual transition to EMV technology in the United States. Compliance to the new standards will save companies money in the long run and protect what they've worked so hard to build.
Although the new EMV credit card mandates may seem overwhelming at first, businesses will be more secure. For the moment, businesses should find a compliant system that works for their company and train their employees on how it works. The rest will take care of itself over time.
---
Categories: Credit Cards