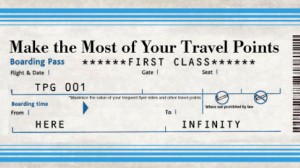 Many professionals in finance do a lot of flying. Traveling by air carriers can become expensive pretty quickly without the right tools for shaving costs.
Professionals who do this kind of travel should take time to research the most rewarding money savers before they take their next trip. Although there are plenty of ways to garner savings on the road, using an airline rewards credit card is one of the best.
How to choose the best rewards card
According to BankingSense.com, "There are many credit cards on the market now, and at first glance their glossy brochures or web promotions make them all look roughly the same — but they're not all created equal." In other words, it takes some effort to decipher which card will work best in your particular situation.
Five of the best options you'll want to look at are:
Chase Sapphire Preferred. This card from JPMorgan Chase may offer the best potential rewards of any card available. Since it has the potential to build up to 3.75% in rewards rates, smart travelers should sign up for this card, for which annual membership costs only $95. The card awards a certain number of points each time a person uses his or her card to purchase airline tickets. Customers can earn up to 3 points per dollar spent on tickets, which can convert into an enormous advantage for future flights. For example, you can earn a total of 40,000 points for spending $3,000 in 3 months.
Barclaycard Arrival Plus World Elite MasterCard. This card promises users the opportunity to amass 40,000 miles when they $3,000 within the first three months. After the initial use period, users can earn 2 miles for every dollar they spend on travel. The card costs only $89 a year after the first year, and every card holder is granted $440 toward travel simply for signing up. The perks are endless.
Southwest Airlines Credit Card. The selling point with this one? You receive 25,000 bonus points toward a round-trip flight the instant you sign up. To earn the points, the only thing the card holder must do is spend a minimum of $1,000 within three months. Compared to other cards, this one involves less financial stress. Different perks are included for the Plus card versus the Premier card. Additional research will help you decide which option would be best for your needs.
Alaska Airlines Credit Card. Following a $75 annual fee, Alaska Airlines offers a 1-to-1 exchange for dollars spent versus miles earned. Although this is a lower rate, the overall costs are less than what you get with some of the larger providers. A major perk is the companion ticket. Once a year, card holders receive one companion ticket worth up to $118.
Capital One Venture Rewards. Prospective card holders receive a big reward for signing up with this card: 40,000 miles after spending a minimum of $3,000 during the first 90 days. The rewards earned can be applied to flights, hotels, and car rentals, which is a perk that enables members to experience the best outcome for their investment.
The big picture
Signing up for a rewards card can greatly improve your finances, especially during seasons of intense travel. A few business trips can result in your earning a substantial number of rewards with the potential to decrease expenses substantially in the future.
---
Categories: Credit Cards