As you probably know, podcasts are a type of audio content that interested listeners can download to their devices. For businesses they represent an interesting opportunity in the form of an otherwise untapped type of content that could help to interest and build relationships with potential customers.
Typically if you want to create a podcast for a business you would record it via a microphone. However there is another method that you should also consider: Extracting the audio voiceovers from a video.
If you think about it, this will mean that you're able to create podcasts without actually having to invest in new content. Instead you'll simply be re-using existing content and repackaging it in a different form – thus giving viewers an additional option, which is always good.
Assuming you want to extract audio voiceovers from a video to create a podcast, the one requirement it needs to fulfill is that the voiceover must be sufficiently detailed that it requires no visual elements to complement it. In other words the listener should be able to understand the points that are being put across – absent the video footage that originally accompanied it.
Once you have ensured that the audio voiceover fulfills that requirement, you can then extract it from the video via any method you see fit. Most podcasts tend to favor MP3 as a format, though sometimes other formats such as AAC, M4A, or WMA are used.
In some cases if the video is extremely long, you may want to split the audio track that you extract from it into several shorter parts and create a podcast series of sorts. Conversely in other cases you may want to merge the audio tracks from several videos into a single podcast.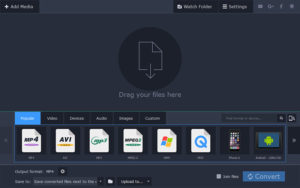 At the end of the day it is up to you how you structure the podcast itself, but it helps if you use Movavi Video Converter to extract and create it. With its help you can easily convert MP4 to WAV, MP3, AAC or any other audio format that you require for your podcast.
Additionally, with the tools in Movavi Video Converter you can merge videos, split them into parts, or even enhance the video quality, create animated GIFs, grab screenshots, and much more. In short you will have all the tools you need to not only create podcasts, but also various other types of media.
For now it you want to use Movavi Video Converter to create podcasts for a business, just focus on using it to convert video files into audio formats – and extracting the audio in the process. Once you do that you can experiment with the other features, and take them out for a spin too.
---
Categories: Earn Money Online