Poker is a game of skill, wit, and psychology. Only the best players survive long enough to be crowned Kings and Queens of Poker. The game is a battle royale for dominance over the field; a hard-fought contest against scores of skilled players competitively vying for their slice of the poker pie. Aficionados of the game recommend that players think long and hard about which cards to hold, and which cards to fold.
As a rule, players are advised to play premium starting hands and reject everything else. This is the golden rule of poker, especially when you're playing in early position (EP), or middle position (MP). The best poker players understand that this war of attrition requires a laser focus, and a keen understanding of poker psychology. Poker is filled with variables, some of which players can control, and others which they can't.
The mandatory bets, known as blinds are paid by the positions next to the dealer (the button). These are known as the big blind and the small blind. Situated clockwise from the button, these compulsory wagers are designed to seed the pot. In certain poker games, compulsory bets known as antes must be paid. As you move through a poker tournament, the blinds rapidly increase, making it much more important for players to consider their starting hands and gameplay.
Can the Fish Bite?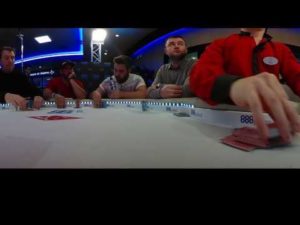 Leading the way in the world of online poker is the prestigious 888poker. This UK online poker room is always pushing technology to the limits, with innovative solutions to redefine the way poker is played. One such contest that is going to showcase a pressure cooker of sorts is the 888Live Series taking place at Aspers Casino for the 2017 888Live London Festival. This $800,000 GTD contest takes place over 10 events and features the 888 Shot Clock. For those who are wondering – it's not a timer for taking shots of vodka or tequila – it's a countdown timer to force players to act before the time runs out.
Professional poker players routinely take their time between calls, raises, and re-raises. Now, 888poker is turning the screws on these procrastinators with a Shot Clock that allocates a specified time within which players must act. It's not done to disadvantage the players – it's done to keep the game moving at a healthy pace. If a poker player is faced with a bet, raise or re-raise, the countdown clock – the Shot Clock – begins once the chips have been counted and the requisite number of chips needed to make that call have been announced.
It's like Pulling Teeth in a Poker Tank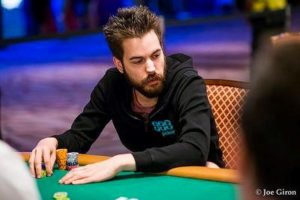 This new dimension to the poker scene adds a degree of urgency to the gameplay, which is a great way to enrich the overall poker experience for players. It's ideal for players in the game, and fans on the rail. By limiting everyone to a set time allocation, nobody is disadvantaged. Players have to hit the ground running, and that's exactly what the Shot Clock is all about. Now, the little fish swimming with the sharks in the poker tank have also got some bite. It's like pulling teeth from a great white and sticking these bad boys in a tank with a bunch of piranhas.
The Shot Clock has been used at several other tournaments around the world, including the WPT (World Poker Tour) on Main Tour poker events. Poker games are rapidly evolving to meet modern-day demands. People want to get through their games quicker, and that's precisely why fast-fold poker games like Snap Poker are so popular.
Event organizers are quick to assuage concerns about the motivation behind the Shot Clock. Many poker pros have already experienced timed poker plays with the Shot Clock, including Eric Le Goff, Ka Him Li, and Dominik Nitsche. The large stack players will not be able to dominate smaller opponents by bullying them out of gameplay through procrastination – now every poker player gets an even shot at making a splash!
---
Categories: Earn Money Online