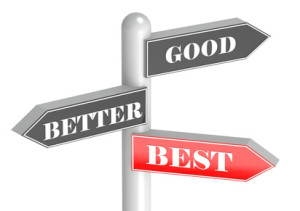 Making a purchase should rarely if ever be a spur-of-the-moment move. Many products have turned out to be poor in quality or even useless. What tends to happen is you make a reckless choice in buying something and then it just sits there collecting dust.
Maybe the decision doesn't seem like a bad one until you encounter a less-expensive version of roughly the same quality. At this point, it's probably too late to rethink the decision.
This is why you should always shop around first, and then make your purchase. It pays off to take your time when shopping. There are at least three items you should always be compare before buying.
1. Cars
A vehicle is one of those items that should be closely scrutinized before purchasing. Will the car be dependable, will it have great gas mileage? These are just some of the characteristics to weigh before you shell out that hard-earned money.
If the vehicle is used, there's a whole new area of decision-making that will have to be explored. With used cars, you'll want to consider the differences by comparing the overall mileage numbers and the car's history. Never settle for the first car you find just because it looks okay.
Take your time, test drive if possible, and then compare against similar makes and models.
2. Home decor
Always closely compare your furnishings and home decor. Whatever you decide to dress up your home with will be what you have to live with for a good long time, so you'll want it to work well with all other aspects of your home's interior.
3. Real estate
Real estate should always be subjected to comparison and contrast with other property before you making take the plunge. Your choice to buy a new home is one of the major decisions of your life which should never be taken lightly.
Compare prices, locations, and quality of the home — then remember to compare again. You can never be too sure, when it comes to such a huge life decision.
You can never be too careful when you do comparison shopping. If you take the time to look before you leap, you'll appreciate the results in the end even more.
---
Categories: General