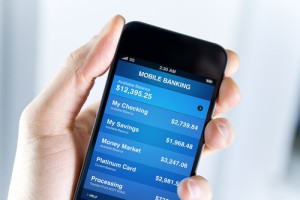 According to the Walker Sands' 2015 Future of Retail Study, 40 percent of consumers polled said they used some type of mobile payment application in the past year. This showed an 8 percent increase from the previous year. But as global smartphone payments and banking activity rises, will the concern over fraud and theft also increase? Here's a look at how safe paying and banking with a smartphone is and how apps and technology companies are rising to the challenge.
Authentication Mechanisms
Smartphone banking and payment apps come with authentication mechanisms to ensure it's really you trying to make the purchase. Meanwhile, credit cards typically don't come with such features; although, the requirement of chip technology in October has made it safer than before.
For example, fingerprint scanning helps determine that it's really you trying to make a purchase from a smartphone. The potential to introduce eye scanning covers the same concept. When you link a smartphone like the Galaxy S5's fingerprint scanning technology to a Paypal account, you can approve a transaction by swiping your finger instead of typing in a password. And there's more in store for biometric tech and using your body for authentication methods. According to Pymnts.com, online marketplaceAlibaba is touting the future of facial scanning in biometric tech.
Payment Platforms
If you don't want to use a fingerprint scanner to complete a transaction, you can choose a payment platform that works by unlocking your phone and placing it near a contactless terminal. For example, Android Pay requires you to unlock your phone, tap and pay. You don't need to dig through your wallet or even open an app. The tap and pay system is quick and easy, and it links your debit and credit cards for immediate use. It also stores your loyalty points to keep track of your rewards and other perks with various retailers.
App Security
Smartphones are typically considered safer than laptops thanks to ongoing rapidly changing technology. But there are safeguards you should take to avoid getting complacent with your financial security. Always use your bank's mobile app instead of using a browser, and don't make financial transactions over a public Wi-Fi network. It's also wise to enable any smartphone security features, such as a fingerprint scan or number code, for added protection. You also need to update your phone's operating system because an outdated version can pose an increased risk for malicious activity.
Keep in mind that apps from unknown sources can spread viruses, much like phishing schemes on email that ask you to log in to your bank immediately to address a fraud concern. By the time you log in and realize something might be suspicious, your personal financial details have been compromised. Apps from malicious developers and distributors pose the same types of security issues. So, only downloading apps from trusted sources, like Google Play or iTunes, is a safer bet because the developer has been vetted and approved.

Infographic created by Clover Network, a contactless payments company
---
Categories: General