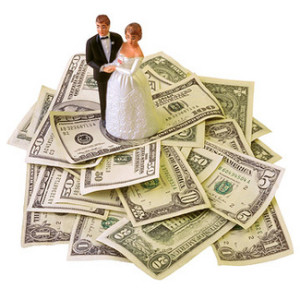 We all know weddings are costly, and once the romance of the proposal is over the budgeting begins. From gifts for the groomsmen to centerpieces for every table, wedding expenses often add up more quickly than the average couple can afford. Instead of remaining single forever, deploy these creative cost saving solutions and have the wedding of your dreams without spending your last dime.
1. Food from a truck
One of the most expensive elements of any wedding is the feast (yes, that's why the food at weddings is usually so terrible), so step outside the box. It's important to feed your celebrating guests, but why not offer them a unique experience too?
Gourmet food trucks can often be rented for a single meal, and they'll come to you, eliminating the need for an enormous catering team. The act of waiting in line for food eliminates the awkward silences induced by a seating chart, and food truck food is delicious and modestly priced.
2. Let them eat S'mores
Alternatives to formal cake abound at off-beat weddings, and one of the best we've seen is the S'more. Best applied to outdoor weddings, but also possible indoors, DIY S'mores as wedding dessert offers guests interactive experience and saves hundreds of dollars.
If you're committed to the ceremony surrounding cake cutting simply have a small top cake made. Faux cake bodies can even be purchased from certain companies, adding to the effect.
3. Rent a yacht
Don't want a huge blow-out wedding, but you've both got relatives coming out of the woodwork? Limit how many invites you can issue and avoid hurting any 2nd cousin's feelings by renting a yacht for the reception.
Crusing around a dusky bay at sunset may sound deluxe and expensive, but they can ultimately save money by allowing you to bundle hordourves and drinks with your location rental.
4. Bring the out the furniture
If you wish you could afford to rent the country club, but can only foot the bill for your backyard, don't despair. One of the most chic alternatives to a high end locale is creating an indoor/ outdoor palace all your own. Pairing chaise lounges, ottomans, and couches, mirrors, pillows and rugs with the outdoors will make you feel like a king or queen on the battle field. And such furnishings can often be rented more cheaply and easily than other locations which will come along with rules, curfews that spoil the fun.
5. DIY Photobooth
Photobooths are hot right now, and having one at your wedding guarantees some great memory making, but renting a booth for the night can be an excessive cost.
Instead, consider making your own photobooth concept space. A drop sheet, a well placed camera on a tripod, and a even a set of instructions for setting the timer are all your guests will really need, but encourage their antics by adding props, furniture, and crazy masks.
---
Categories: General