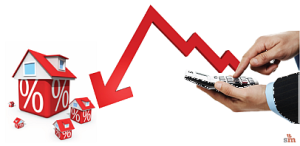 Variable home loans are popular among borrowers owing to the flexibility offered by them. The home loan rates in this case fluctuate in accordance with the market index dictated by the Reserve bank. There are a few obvious benefits of availing variable home loans including the minimal introductory rates, the option of making additional payments and redrawing facility. Today, we will be drawing your attention to a few effective ways in which you can save money on your variable home loans. Do read on!
A Few effective Ways to Save on your variable Home Loans
Start off by dividing the monthly payments in to bi-weekly installments
Please remember that you will really be able to realize the benefit of this particular step in the long term. There are no immediate benefits to be recognized here. However, once you understand that the interest on your home loan is charged on a daily basis pro rate then it'll be easier for you to appreciate its benefit. The moment you break down your monthly payments in to bi-weekly ones, you would be able to pay off your loans faster thereby saving some money.
Reduce your loan term
Taking off from the previous point, we would once again like to mention that the interest rates are charged on a daily basis. Reducing the loan term would actually mean that you are potentially saving up around thousands of your hard-earned pounds. Shorter loan tenure is equal to lower rates of interest. However, please be wisely informed that you would have to pay a little extra cash in that case. Yes, it is important to consider your ability to pay that extra cash and then settle for a decision. The only advice would be to consider your options closely and try your best to pay that little extra every once or twice in the month in order to save up considerably on your variable loan.
Consider putting a CAP on your rates
Try and zero in on a company which will actually allow you to avail a CAP on the rate of interest on your variable home loan. As already mentioned above, the interests on these loans fluctuate with the market index. They may either come down or go up. In order to limit the rate at 1, 2 or 3% above the percentage of your current rates for a particular number of years, you might as well avail the CAP product for 2 or 3 years (as per the policies of the lender). If the rates go past the ceiling during these 2 or 3 years the excess interest paid by you is refunded.
Shop around
Make sure that you are shopping around for rates for a considerable period of time. The more you compare quotes offered by different lenders better are your chances of finding the lowest rates in the market. The lowest rates, however, should not be the sole factor governing your choice of a lender. You should keep the flexibility of the particular loan in mind. You can save on variable rate home loans by NPBS. Consider talking to them in order to find out whether it is possible for you to change your mortgage as per your financial circumstance or not.
---
Categories: Real Estate