It has been a rocky couple of years for crypto as the volatility in the industry shows no signs of slowing down – whilst there have been some great positives as crypto options have launched in many different online platforms as this site lists some of the biggest in the likes of gaming, it has also come with some downsides too and the latest that has been identified has been the huge energy requirement that has come with the mining and trading of the biggest coins – and as energy demands continue to grow amidst the mobilisation for bigger miners moving to different countries, it could put much of the crypto industry at risk as different countries issue bans.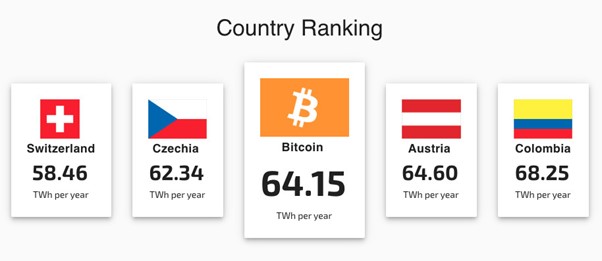 (Image from theverge.com)
The catalyst has been aimed at the ban in China – when a full ban was issued it led many who had set up Bitcoin and similar farms on an industrial scale to seek out a new home for these huge facilities that could be entire warehouses in size and had some very specific requirements too – a large space that was cheap, a country that would seem safe for future crypto mining, and perhaps most important – cheap energy. The cheap energy would be key to offset the huge amount used from running not only all of the rigs, but the support equipment in ventilation and cooling too.
One of the first countries to see this "golden destination" hadn't been all that far away in Kazakhstan, at one point estimated to be home to 22% of global Bitcoin production following the move away from China. Harbouring large oil reserves and plentiful energy and ticking the boxes for not only having cheap facilities available but also cheap energy, this golden period wasn't to last as the huge influx of miners took had an impact very soon after with rolling blackouts and later imposing change to limit the amount of energy available to the miners and fizzling out the growing Bitcoin haven for some.
Countries across Europe have been looking to enact change too, with Iceland being a home for some clean crypto miners looking to rely on the natural renewables, the growing energy shortage has hit here too and are deny requests for new miners. Sweden will similarly look to enact more measures to cut mining and would hope to spread this throughout the EU, where it's looking if Sweden will move this way, then Norway will look to join. With some commentors on different platforms showing just how much Bitcoin used as a comparison to other payment platforms like Visa, some 14,000 times more energy, it's no surprise to see different countries doing all they can to curtail the growing energy concerns.
---
Categories: Crypto