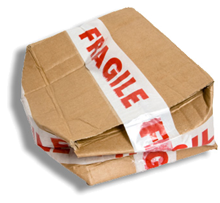 Business owners often try to minimize the impact of shipping to their bottom line. Because of this, they usually end up paying more for shipping than they have to– and the most common errors businesses make for shipping can often be the most expensive. The overwhelming majority of shipping mistakes fall into four main categories, and by simply taking a few extra precautions, business owners can save hundreds and thousands of dollars in annual shipping costs.
Overpaying For Shipping
Shipping is usually charged with two criteria: size and weight. However, some businesses tend to use flat rate shipping, which can be considerably more than weighted shipping. Even worse, some shipping departments simply estimate their total costs, causing shipping prices to skyrocket. According to an example by Jason Fell, the Managing Editor of Entrepreneur, a client may estimate a flat rate of $5 per package but ends up overpaying by hundreds of dollars in a single season. By making sure to weigh and price packages according to their shipping value, this flagrant waste of money can be avoided.
Not Consolidating Shipping
Another common mistake businesses make is shipping everything individually or in small batches, as opposed to consolidating their business shipping. By not consolidating shipments, the average cost of freight can become substantially higher. Often, many parcels can be combined or consolidated to reduce overall shipping costs. Production Machining magazine has a deeper explanation on consolidating shipping here.
Not Verifying Addresses Until It's Time to Ship
Another expensive shipping error comes in the form of verification of a shipping address. This should be done immediately after orders are placed and well in advance of pickup for shipping. If verification is done at the last minute, it can become cumbersome; the client may be difficult or impossible to reach, the tightened deadline increases the possibility of errors, and worst of all, waiting for the last minute often reflects poorly on the company in the mind of the consumer. If verification is done after shipping, the problem can be exponentially worse. A common courtesy call can become an expensive logistical nightmare involving multiple departments, additional expenses, and the possibility of returns (best case scenario) or lost product (worst-case scenario). This blunder can easily be avoided by double-verifying the shipping address in before sending out any product.
Not Double-Checking Everything
While it would seem that the above would cover many common shipping mistakes, another key mistake is not double-checking the logistics of delivery. This is especially true in dealing with international shipping, where additional customs and duties may be involved. Unless an agreement is reached with the carrier beforehand, the company that needs something shipped will assume all cost liabilities, duties, customs and foreign taxes involved. Best case scenario: businesses incur substantial cost during delivery. Worst case scenario: the shipped items can be confiscated by state authorities in lieu of product delivery. That's why it's important to make sure to choose carriers with an excellent track record with freight shipping, especially internationally. Freight Run has a list of the top freight companies dealing in the North American region with a 99% success record.
---
Categories: General