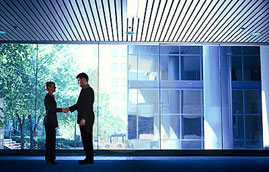 Earlier this year seasoned consultants at PriceWaterCoopers predicted that Singapore will be taking over Switzerland as the world's largest wealth management centre by the end 2015. It is not surprising that most research houses have agreed to this prediction.
Asia's ability to produce wealth has surpassed every country in the world. The economic rise of China and its knockout effect on the region is best utilised by the credibility and focus on ethics of the Singapore market.
In recent years Singapore has grown into a global private banking centre in Asia. High value clients choose Singapore for their banking needs for more than one reason. Political stability, economical robustness, high standards of regulation and judicial framework, reliable players who offer ready access to global financial markets make Singapore a preferred destination for high- net worth individuals.
With the evolution of global business, the job market in Singapore is changing dynamically. Experienced professionals from the field of law, finance and asset management and graduates seeking a path breaking career in private banking and wealth management can expect some of the below mentioned fields to throw a number of opportunities at them.
Technology based roles
By 2020 Singapore is expected to invest one fifth of its earning in IT infrastructure and data centres. This in turn would propel the demand for technology driven jobs in areas such as networking, cyber security, cloud computing and infrastructure operations.
Compliance and Risk Management Careers
Evolution of global business demands new regulatory and statutory requirements. Banks in Singapore are becoming more interested in hiring post graduate students hailing from a background of law and structured finance. This could probably be the "lawyer-turned-into- banker" era of Singapore.
Customer centric roles
One of the biggest challenges that Singapore has to combat will be the setting up of a local workforce that can handle international clients in the best possible manner. Given the high chances of risk and the towering scale of banking, customer centric roles for a personalised banking experience is about to splurge.
Wealth consulting and Risk Management roles
Singapore is home to a strong network of private bankers, insurers, asset management consultants and ancillary service providers. The synergy of this robust network and the emergence of global wealth management sector in Singapore is expected to give rise to a number of roles in risk management, compliance management, asset advisory roles and management consulting roles.
If you are looking at cracking into the finance market of Singapore this is probably the best time to do so. Garnering of the right skills and a targeted projection of the self is sure to bring loads of opportunities in 2015.
---
Categories: General