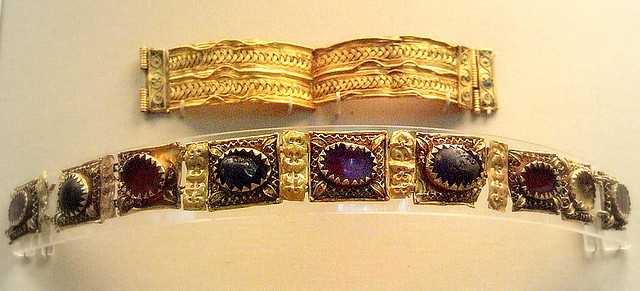 If you have delicate chains and other jewels that are looking a little aged, a good clean will have them looking like new in no time.
Jewellery – be it gold or silver or even coins – builds up a layer of grime when you wear them regularly. The grim on necklaces, rings, bracelets and earrings is really a build-up of skin, body lotions and dirt that the items come into contact with. This grim has to be cleaned regularly to bring your delicate jewels back to a beautiful shine. Another reason you may want to know how to clean your gold is if you're planning on selling it. You'll want to impress buyers with your wares, no doubt, and entice them to offer you the highest possible price.
So you'll need the right cleaning tools and methods to get started. Most items can be easily cleaned but when you're dealing with delicate pieces, you'll need to take a little extra care. Gold Buyers Melbourne offers these cleaning tips.
Cleaning Jewellery At Home
If you're going to be cleaning your gold, soak it first in isopropyl-based alcohol for a few hours and then rinse it well.
Create a solution of 2 cups of water and half a cup of ammonia and use a soft bristled toothbrush to gentle brush the solution onto your jewels. You can also use a soft brush like a nail brush.
Stay away from abrasive cleaning products and remember to rinse the items thoroughly in lukewarm water.
Allow the pieces to air dry and polish with soft microfiber or terry cloth for the ultimate shine.
How To Clean Delicate Jewellery
Gold Buyers Melbourne will offer good prices for the delicate items you want to sell provided those pieces are in good condition. So when it comes to cleaning the more delicate jewels, take note of the type of metal that you'll be cleaning and if there are gemstones.
Some gemstones, like pearls and opals, can't be cleaned with ammonia whereas gems such as tanzanite are a lot softer and won't do well being scrubbed. Filigree won't hold up to scrubbing either.
Most delicate items, though, will do just fine when they are gently cleaned with a soft, old toothbrush or microfiber cloth and a small amount of average dish soap.
Cleaning Delicate Silver items
Silver jewellery can be cleaned the same way as gold jewellery. But don't place silver in a chlorine solution of any type. The chlorine found in swimming pools and hot tubs can cause a reaction with the silver leading to it becoming greenish in discoloration. This is extremely difficult to clean off.
Solutions high in ammonia can also damage silver so take care when concocting your own cleaning solutions.
To remove silver tarnish mix together a quarter cup of water; two teaspoons of liquid dish washing soap and a teaspoon of household ammonia.  Use a cotton swab and dip in the solution. Gently scrub the jewellery until the silver tarnish comes away.
If the tarnish is somewhat stubborn, soak the jewellery for half an hour and then rinse immediately before scrubbing.
Looking After Pearls
Pearls are really delicate and if you have a few in your fine jewellery, you need to take extra care, suggests Gold Buyers Melbourne. Here's the easiest tip for cleaning pearls: don't use anything to clean them! Stay away from cleaning agents. Even perfumes, hairsprays and hand creams can damage pearls.
Stay away, too, from ammonia, detergent, alcohol and other jewellery refiners that have not been specifically developed to clean pearls or you'll damage your items.
If your pearl items do need cleaning, simply wipe them with a soft, damp cloth. You can also polish the pearls with a tiny drop of olive or vegetable oil to keep them shiny. Remember to rinse and dry them thoroughly. If they do need a more serious cleaning, take them to a professional.
---
Categories: General