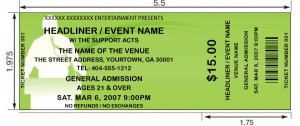 Living on a tight budget needn't mean spending every single evening in front of the TV, with only the occasional visit to the movies to break the tedium. Whether wishing to bag Philadelphia 76ers tickets, hot-foot it to the Bolshoi Ballet or see Eric Clapton in concert, there are ways and means of getting there without breaking the bank. With the extensive and varied world of the internet at our disposal, the smart buyer will employ all the tools available in order to acquire those precious tickets – at the right price. However, there are certain factors to bear in mind before embarking on that daunting internet trawl.
Special offers
The internet has certainly made it very much easier for buyers to shop around in order to compare prices and obtain the best deal, and it is always sensible when buying tickets to check out discount websites and take a look at the special offers available. As with low cost airline sites, rather than allowing seats to go empty, event ticket sellers are most likely to dispose of their leftover seats by selling them off cheaply to opportune buyers. Shoppers who subscribe to their city's feeds on discount websites will be able to keep abreast of the events taking place in their area and snap up some of those deals when the price is right.
Acquiring tickets at the right time and for the optimum price can be a bit of a juggling act though, and despite the fact that buying tickets three or four weeks in advance of an event is the ideal strategy, it is worth remembering that there are exceptions, notably in the shape of NFL and NASCAR events, such as the Sprint Cup Series, which tend to sell out extremely quickly (they often restrict the number of tickets made available for the general public). Since it is more difficult to get hold of cheap tickets to the most popular events, subscribing for season tickets could be the best option and this will save the shrewd buyer anything between 10 and 35 percent of the cost of buying tickets for individual events.
For those who are able to be flexible, another approach when fishing for a good deal is to take one's time. This is, of course, the strategy which carries the greatest risk, particularly when trying to acquire seats for popular events. It can pay, though, to wait until the last minute and simply turn up and buy tickets at the venue. When this works, the buyer is spared those frankly rather tiresome and costly convenience charges and service fees. Alternatively, turning up at the venue two to three hours before the event may make it possible to obtain a significant reduction on the standard price.
When purchasing anything online, the immediacy can be addictive and money can be spent via the internet with breathtaking speed, so before buying any tickets it is vital to do some research into the companies which are selling them. A trawl through sites which pool together tickets from different sources will provide buyers with the pricing information that is needed to bring events within the reach of those who are on a tight budget. Provided that they check out with BBB or Google, bargain hunters can proceed with confidence and bag the cheapest available tickets.
Booking for a show
If planning a night at the theater on a budget, trying to get onto the front row or box seating should perhaps be reserved for a special occasion, as they are more expensive and hundreds of theatregoers will be vying for same seats; moreover, due to the immediacy of our online age, they can be sold out in the blink of an eye. Procuring tickets need not be so traumatic if it is possible to be flexible. If it is not imperative to attend a particular performance at a specific date or time, why not consider an alternative, less busy show, even at a different time of day?
Acquiring tickets to see popular live bands and touring shows, such as Elton John or Robbie Williams, doesn't have to be out of reach for those with limited funds. Always visit the official site of the band or touring events to study the tour dates and pick up news on further plans. This can pay off, because if tickets are not obtainable first time around, for those willing to hold fire and keep one eye on these sites, it is possible to snatch tickets when a show returns to the area later on at the end of a tour. Remaining adaptable might make it possible to attend less oversubscribed performances in a nearby city, rather than trying for tickets at home. Timing is crucial for those opportunists who enjoy the more unpredictable nature of life; these clever ticket buyers will phone the box office no more than two or three hours before a performance and ask for any seats which may have become available. The price of tickets like these will usually be slashed by anything up to 50 percent.
For those who are happy to eschew home comforts for a few days, attending a festival might be worth considering. The logic behind this is really quite simple – where else does one have the opportunity to see such a large number of bands, all in one place for several days? When buying event tickets, this is most certainly a factor to bear in mind as it offers incredible value for money, if assessed on an entertainment to dollar ratio.
While it may be tempting, when trying to purchase tickets for that longed for event, buying them from classified or auction sites is higher risk and should perhaps be avoided, particularly if one's disposable income is minimal. Generally buyers will pay more for these tickets and despite the fact that most sellers are honest, the trustworthiness of vendors on these sites can never be fully guaranteed.
---
Categories: News About Personal Finance