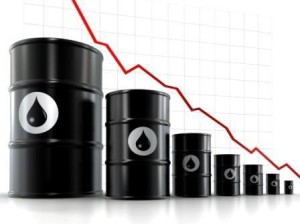 For most Americans, low oil prices that have hit the same levels as those seen in 2008 are truly something to be pleased about this season. However, while the average American hasn't already begun analysing whether this trend will continue, forex market analysts are already on the job. Low oil prices have a positive impact on currencies, especially the dollar. Low oil prices relate to the dollar in that when oil prices are low, the dollar tends to remain high. Below are a few indications that the oil price decline is here to stay.
U.S. Production of Crude Oil
Foreign oil producers are no longer the only providers of crude oil on the global market. This past year, the United States has strongly asserted its position in the market by promoting the production of oil on its own soil. U.S. oil production is set to continue well into the coming years, thus keeping oil prices low in the states and on the markets. The increased production also has a positive effect on the global market, as foreign exports of oil gain less footing in their ability to manipulate prices for unfair gains.
Global Surplus
Another factor that affects U.S. oil prices is surplus. Currently, production of oil in Saudi Arabia is costing about $30 per barrel. The low production costs are speculated to lead to a sizeable surplus of Saudi Arabian crude oil. While there are low prices in place, there still won't be enough demand for buyers to create a need for the oil. Therefore, it can be expected that the oil surplus is going to keep oil prices down or even drives them into further low. Again, as our NetoTrade application indicates, this bodes well for the forex market as the dollar sell off is already on.
There Will Be an Eventual Bottom
While oil prices are extremely low, market analysts believe that the low still hasn't been hit. Since the drop in oil prices has not seen a bottom yet, speculation is that it is going to continue getting lower in the coming months. The trouble with this is that there is no true way to determine when that will be. Some analysts believe that it is going to be early in 2015, while others see it occurring at the end of next year. However, as things stand, oil prices are going to continue to decline at least into the near future, according to analysts.
Despite there being factors that are assessable in how they impact oil prices, there are certain situations that are difficult to account for and that can easily drive up the price of oil. These situations include short-term supply constraints such as droughts and oil spills. The market has a tough time accounting for these elements because there is no way to track when or how they can happen. But for now, the uncertainty is having no impact upon the market's analysis for oil.
---
Categories: Oil Commodity Market