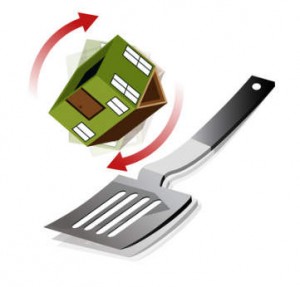 Flipping a house is no easy task and it shouldn't be undertaken by a complete newbie. It's easy to get wrapped up in house flipping TV shows where everything looks exciting and relatively simple. It might seem like all it takes is some capital and an eye for a great bargain, but it's much more complicated than that. However, if you're gearing up to sell a home anyway, you can certainly tap into some house flipping tricks and tips the pros use. No matter what your budget, it's better to spend less on a home you're about to move out of.
There are nearly free ways to flip a house, and then there are more expensive options. Focus on the biggest bang for your buck, which can include light/space manipulation and simple cleanliness. Remember the goal of selling a home: Getting potential buyers to envision themselves living there. They don't want to see remnants of the current owners, so make yourself scarce with these tips:
1. Look at your window dressings
Naked windows are better than kitschy curtains or outdated blinds. This is where natural light makes its entrance, so stick with clean, neutral shutters or gauzy curtains. This goes for the bedrooms, too, even though you might be tempted to just leave your blackout curtains up. If you don't want to or can't afford a dressing upgrade, let your windows go naked and free.
2. A deck and/or garage door stain
Decks and garage doors take up a lot of real estate and can be curb appeal hits or misses. If they're wood, they need a good re-staining or re-painting every year. Your potential buyers might not even be able to pinpoint what it is they're not loving about a home, but it might just be that faded or chipped massive block of space. This is a quick, one-day project that doesn't require much elbow grease or skill.
3. Landscaping
What a difference a little edging makes! Clean, green grass with rich soil beds and a few greenery pieces can turn a home from foreboding to inviting. You don't need to become a master gardener, but keeping the landscaping green, maintained and maybe sprinkling in a few plants can add incredible curb appeal. No matter what landscaping style your region demands, spend a little time in this important area.
Neutral, white walls, removing any photos and de-cluttering in general, and basically turning your home into a model home is key.
---
Categories: Real Estate