When in the process of designing our kitchens, the first thing on your minds is usually practicality. However, seeing as how we spend so much time there, there are other aspects we should also consider, such as comfort, serenity and elegance. If you are looking for ways to add a touch of luxury to your kitchen, here is what you need to know.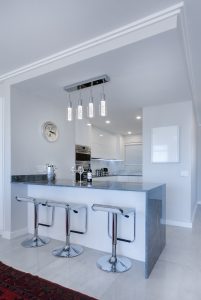 Rely on Colours
To achieve a luxe feel, the easiest approach is definitely finding the right colors. Going for a neutral color palette will give your kitchen an understated elegance which will allow other, more opulent element to really stand out. However, when we say neutral, we don't mean only white. You can also use darker shades such as black and navy to create a dramatic look or if you want to stay on the lighter side, various light grays, beiges and off-whites will do the trick.
Layer Your Lighting
Light plays a vital role in creating a wow factor in your luxurious kitchen. Seeing as how the best effect is created by layering the lights, you will need to incorporate several lighting fixtures. For overhead lights, your choices are vast and you can choose anything from elegant pendant lights to extravagant chandeliers. In case there are some elements you really want to emphasize, you should make sure to get some accent lights as well. Just don't forget that you will also need to install task lights near the sink and your meal prep station.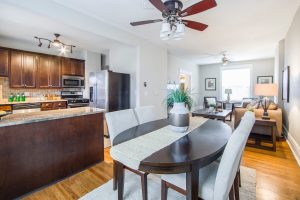 Get Top-Notch Appliances
For a luxurious feel, you cannot save on appliances. Make sure you get state-of-the-art appliances which will take the look of the entire space to a whole new level. Think about adding a double oven (especially if there is a great cook in your family) and look for a fridge with double doors as that always looks classy. Furthermore, you can consult experts on some clever ways of incorporating the appliances into their surroundings.
Change Your Layout
A solution that requires a bit more money is changing the layout of the space. Cramped and dark kitchens do not exude luxury and if you have the funds, you should consider this approach. If you decide to renovate the entire kitchen, it's best to first talk to some professionals such as those from Go Build Renovation who can tell you if this idea is doable. Perhaps moving the plumbing and electrical wiring is too much of an undertaking and will not bring any benefits. On the other hand, they might say that this is a great concept and will work with you to make it a reality. Open floor spaces and lots of windows can make the kitchen look even bigger and more striking.
Invest in Custom Cabinets and Counters
Custom-made cabinetry always screams luxury. Having everything made to measure means that you can go for whatever design matches your aesthetic no matter how grandiose. For example, you can incorporate curved lines into your elements which will highlight the workmanship. Or, you can go for some ornate decorations on the cupboard doors and endings. Some people also opt for glass door fronts and as glass comes in different finishes, you can choose from seeded, frosted and transparent options. This can make your kitchen more inviting while it also lets you display all your fancy dishware.
Add various decorative elements
Other than cupboards, you can add ornate details to other elements as well. For example, if you have an island in your kitchen, you can have interesting table legs in case you are going for a more traditional style. You can also incorporate ornate and oversized corbels into the design of your island; they can even be plain if you don't want to go over the top.
Don't Neglect the Effect of Crown Molding
All spaces can benefit from crown molding but especially those that are striving for luxury. They come in various styles and sizes, so you can easily find one you can incorporate in your kitchen. Some models can even be used to connect the wall cabinets to the ceiling, which creates a seamless transition between the elements.
Look for the Perfect Countertops
The countertops can be quite eye-catching, so you should definitely look for a material that is high-quality and luxurious. For example, consider natural stone like granite and marble. In addition to giving your kitchen a unique and sophisticated look, they can also be quite durable. Seeing as how they come in many different colors, you will surely find something that matches your style.
Use Plants to the Fullest
Apart from all the health benefits, plants can also elevate the look of your home. You can choose anything from cacti and succulents to some more demanding plants. Taller varieties such as the yucca plant can look amazing in an attractive planter.
Hopefully, this list inspired you to add some luxury to your kitchen space. From smaller additions like plants and new light fixtures to bigger ones like a full renovation, there is no shortage of things you can do regardless of your budget.
—————————————————————————————-
Bio: Patrick Adams is a freelance writer and rock-blues fan. When he is not writing about home improvement, he loves to play chess, watch basketball, and play his guitar. More than anything, he loves to spend his time in his garage, repairing appliances and creating stuff from wood.
---
Categories: Real Estate